Finishing up the writing of the Agendashift 2nd edition (linkedin.com) I've made two updates to the IdOO pattern resource. The first is in the wording of this "definition":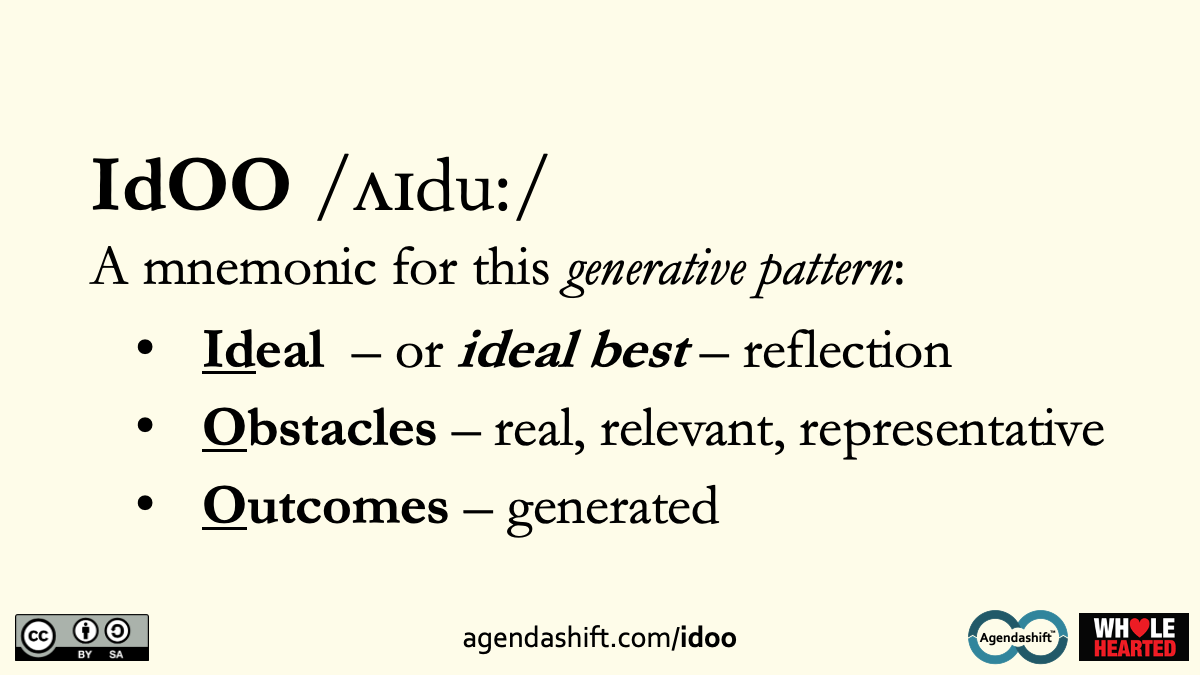 What's different:
"real, relevant, representative" – this is quoting Good Obstacle, Bad Obstacle [1], the name of a workshop exercise that like the IdOO pattern itself is new to the 2nd edition, also of a webinar recording and some associated resources
"generated" – in case it needs to be said
Further to that second point, the IdOO deck (obtainable via the IdOO page) includes this version of the slide:
This is to emphasise that the generative process represented by the IdOO pattern needn't be linear. If you're at Outcomes, for example, "What stops that?" or "What obstacle might be in the way of that?" [2] takes you back to obstacles. From either Obstacles or Outcomes, the Challenge Mapping [3] question "Why is that important?" may take the conversation in the direction of the Ideal.
What the IdOO pattern gives you is a simple structure into which your favourite generative questions (and frameworks thereof) can be used, resulting in conversations that can be more strategic in nature than those coaching conversations whose main goal is to get to the next commitment. In the 2nd edition's first two chapters you'll see the Discovery and Exploration activities explained in those terms. But that's not IdOO's only use: it reappears as an ideation pattern too.
I can't yet give a publication date, sorry! If you want to stay posted you can subscribe to the mailing list.
[1] Good Obstacle, Bad Obstacle (agendashift.com, video and associated resources)
[2] For a discussion on those two question forms, see The language of outcomes: 2. Framing obstacles (January 2020)
[3] See I'm really enjoying Challenge Mapping (June 2020), also some related links on the IdOO pattern page
---
Upcoming workshops
All the usual discounts apply: repeat visits (not uncommon), partners, gov, edu, non-profit, country, un- or under-employment, bulk orders. If you think that one might apply to you, do please ask.
And if you think that you might become an Agendashift partner, join before the Deep Dive and the partner discount on the workshop covers your membership!
---
Agendashift™, the wholehearted engagement model
Links: Home | About | Our mission: Wholehearted | Become an Agendashift partner | Assessments | Books | Resources | Media | Events | Contact | Mike | Subscribe
Workshops: Transformation strategy | Outside-in strategy | Short training
Blog: Monthly roundups | Classic posts
Community: Slack | LinkedIn group | Twitter