In case you missed it:
What happened since 2018 and the 1st edition? Quite a lot actually!
Engagement models happened
It may seem a bit daft to say that one of the things that happened was the foreword to the 1st edition, but it's true! Daniel Mezick's use of the term engagement model (a term I hadn't used) was a gift. It gives us a constructive and generative name for "change through means other than imposition", it creates an identity for a category distinct from those linear models of change management, and I've come to appreciate the distance and differentiation that this affords. To quote from the book:
You can't upgrade your organisation like you're upgrading your email server!
The 2nd edition gains a foreword from Pia-Maria Thorén. So glad to make that connection with HR community! Time will tell where that will lead, somewhere good I'm sure.
Lots of small and not-so-small improvements happened
To name just a few:
Patterns happened
The "Agendashift as a river" poster is gone (hands up on that one, it was a mistake). In its place, the figure-of-8 framework picture, with Agendashift's two main patterns for each loop and the Agenda for Change at their intersection: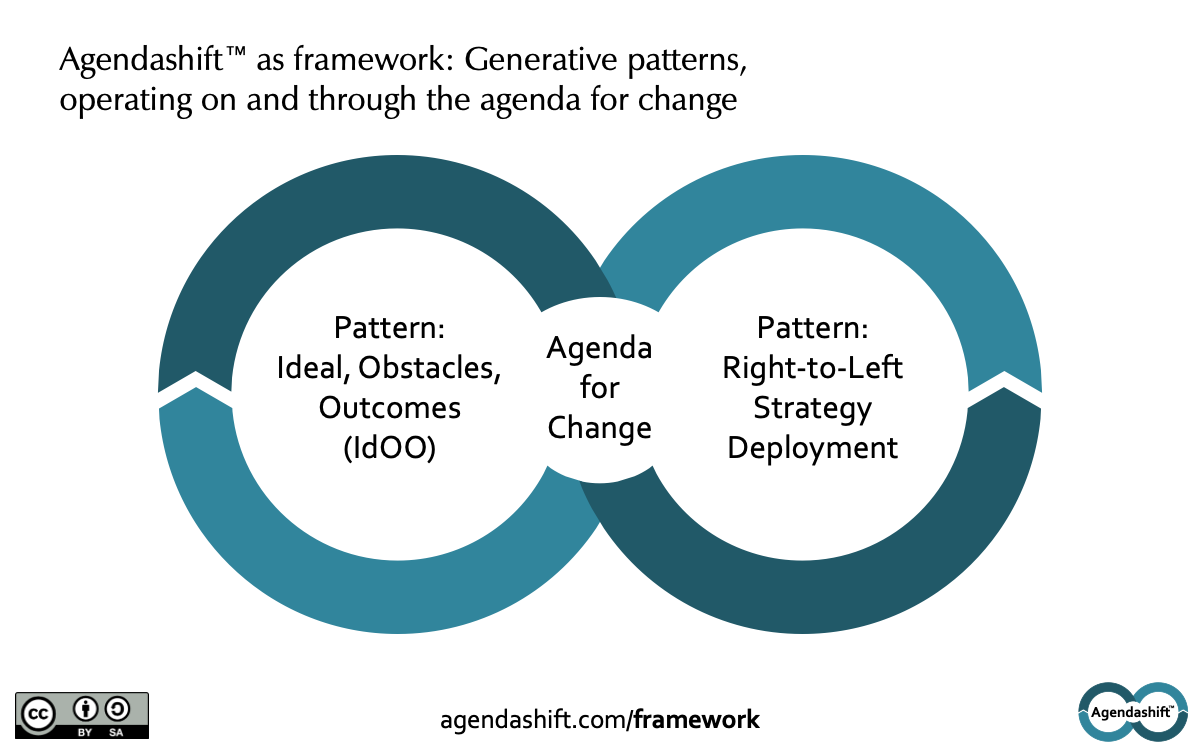 Chapters 1 & 2 each provide a demonstration of the Ideal, Obstacles, Outcomes (IdOO) pattern. The pattern is discussed in relation to other coaching models and leadership routines – GROW, Toyota Kata etc, and it creates the opportunity for the now much more developed Outside-in Strategy Review (OI-SR) to be introduced much earlier in the book.
By chapter 3 (the Mapping chapter), the Agenda for Change is already well established and much better defined than it was in the 1st edition. It is one of the most-changed chapters, now describing the well-tested string of three mapping exercises practiced since early 2019:
Option Approach Mapping – Cynefin Four Points with outcomes and under a pseudonym (it's better that way)
Option Relationship Mapping – Karl Scotland and Liz Keogh's Cynefin-inspired brilliant reworking of Wardley Mapping designed to work with outcomes
Pathway Mapping – 'Transformation Mapping' in the 1st edition, Story Mapping with outcomes
I wouldn't describe either Mapping or the Agenda for Change as patterns but certainly there are patterns in that chapter – describing the three exercises together really helped me see those and I think they will be helpful to facilitators of these and similar exercises.
Chapter 3 is also the launchpad for the Right to Left Strategy Deployment pattern, making it the pivotal chapter. It changes the perspective of chapter 4 (Elaboration) quite noticeably, and chapter 5 (Operation) is completely rewritten. Before that, a smaller pattern, Meaning before Metric, Measure before Method (2MBM), which goes with improvements to the ideation part of chapter 4 (Elaboration).
Covid-19 happened
Let me just quote the Introduction (like chapter 5 this was rewritten from scratch):
Finally, Covid-19 happened. I have a vulnerable family member, and by the time lockdown was formalised in the UK I was already in self-imposed quarantine after a trip abroad. I realised very quickly that my globetrotting days were done and that I had to make a strategic shift online. I found that the change of platform helped me see the material through fresh eyes, and I have been glad of the opportunity to collaborate and experiment rapidly with others. We're determined to deliver the best possible online experience and this new 2nd edition benefits significantly from what we've learned through this extraordinary time.

Stepping back from those technical improvements and personal challenges, it has never been clearer that strategy and ways of working are matters of urgency, and that they need to be tackled in an integrated and, dare I say, wholehearted, way. As the world shifts online, so customer relationships change (and as I observed in Right to Left, so increases the opportunity to learn from them). Meanwhile, the need for individuals and teams to connect both to purpose and to each other becomes critical. The alternative – irrelevance, fragmentation, and alienation – hardly bears thinking about. If instead I could bottle some of the best experiences in our progress since the 1st edition – special moments in workshops, client engagements, community and cross-community events, and smaller, purposeful collaborations – well I'd be a happy man indeed.
Right to Left happened, and Dialogic/Generative OD happened
Right to Left: The digital leader's guide to Lean and Agile, my 2019 book and 2020 audiobook gave rise to the 1-liner for our mission, "We're in the business of building wholehearted organisations".
Right from the earliest days of wholehearted I've taken great care not to spoil the generative quality of the word by over-defining it. Nevertheless, chapter 5 does give some shape to the wholehearted organisation via Bushe & Marshak's Dialogic Organisation Development (2015) (see this 2019 post on my initial encounter with it), the Generative Change Model as described in Bushe's The Dynamics of Generative Change (2019), and – continuing a journey started in Right to Left –  Stafford Beer's classic Viable System Model (VSM). Two strikingly different bodies of knowledge there but they work wonderfully well together in a vision of the organisation in which strategy, organisation development, and delivery are integrated through participation. Key quote:
It's a funny kind of autonomy when strategy is something that happens to you
Right to Left is the also the source of two key elements of chapter 5, the Outside-in Service Delivery Review (OI-SDR) and the Outside-in Strategy Review (OI-SR), the latter introduced in chapter 2 as previously mentioned. In the 1st edition they were only hinted at; I developed them properly in Right to Left. For the 2nd edition I didn't want to just rehash that material though and so it extracts from them a number of lessons of organisation design and leadership. Clue: the Who's invited? question is asked three times in chapter 5 alone.
And so to the new chapter 6, Up and down the Deliberately Adaptive Organisation. This was very nearly just an appendix – a reconciliation between Agendashift and VSM – but it grew! Its name is inspired by Kegan & Lahey's Deliberately Developmental Organisation (see An Everyone Culture: Becoming a Deliberately Developmental Organization, 2016), which despite my sometimes outspoken aversion to staged development models, maturity models, etc integrates really nicely.
This has been a very rewarding process. We've established some deep foundations, learned a lot, tweaked the language a bit, and found that we could say something both challenging and constructive about scale. And nothing broke!
And out of it, something new that might be substantial enough to enjoy a life of its own:
The lines between Agendashift and the Deliberately Adaptive Organisation are perhaps a little blurry but I don't mind that. If now we're in the business of building wholehearted and deliberately adaptive organisations, Agendashift is how that happens, 'wholehearted and deliberately adaptive' describes what we're aiming for, and any blurriness is a function of that mission's internal consistency. I find that rather satisfying.
So yes, quite a lot happened since 2018. Be in no doubt, the 2nd edition of Agendashift: outcome-oriented change and continuous transformation is a big update. It's available here:
An ePub edition is imminent also – expect to find it very soon on Apple Books, Google Play, Kobo, and elsewhere.
---
Upcoming workshops
The long-promised Deep Dive for the Americas is in the calendar at last and we've added a shorter Leading with Outcomes for APAC also:
---
Agendashift™, the wholehearted engagement model
Links: Home | About | Our mission: Wholehearted | Become an Agendashift partner | Assessments | Books | Resources | Media | Events | Contact | Mike | Subscribe
Workshops: Transformation strategy | Outside-in strategy | Short training
Blog: Monthly roundups | Classic posts
Community: Slack | LinkedIn group | Twitter